5 Commitments
I will maintain six feet of physical distance.
I will wash my hands often.
I will cover my face in public.
I will stay home when I am sick.
I will get tested immediately if I have Symptoms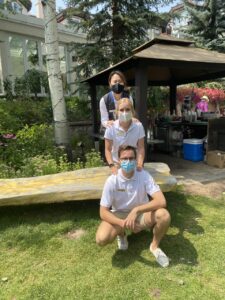 Enhanced Safety Protocols
Providing masks, gloves, hand sanitizing stations throughout buildings
Regular cleaning & disinfecting of high-volume areas and high-touch surfaces
Follow county & health department's guidance on recommended employee quarantines
SONNENALP POLICIES & PROCEDURES
Adhere to the 5 community commitments:

Maintain 6 feet of social distance whenever possible.
Wash hands often and utilize hand sanitizer throughout the building.
Wear a mask in the village, inside buildings, and at all times while in the presence of others while at work.
Stay home when sick.
Get tested immediately if you have symptoms.

Do not take public transportation if you have other options available to you. If you must take public transportation, please practice social distancing and follow CDC sanitation guidelines regarding handwashing, not touching your face and wearing masks. If driving in, please plan to park in the Village Structure.
Gloves should be worn by certain job specific areas, to include those working in food prep, valet, and any employees entering guest rooms.
We ask that no one prepares and consumes food in Cantina Alpina, unless there are fewer than 3 people within the room. Conference rooms will be made available for employee breaks as these spaces will allow for proper social distancing.
Do not read or congregate in the breakroom, meeting rooms, or common areas. Do not visit with others in small offices. Practice social distancing when using any common areas.
Group and team meetings should continue be held over Zoom whenever possible.
Every employee is required to self-screen through temperature checks every morning prior to arriving to the workplace. In the event that you have a temperature over 100.1 or are exhibiting any other symptoms, you should not come to work and contact your direct manager.
Every employee is expected to complete a health screening form each day upon arrival to work. Ensure your manager is the first person you check in with, or perform the management self-check in. If the health screening reveals COVID19 symptoms, employees should return home immediately.
Employees are discouraged from all unnecessary travel, including air travel. If you must travel, please practice social distancing when possible and follow CDC sanitation guidelines regarding handwashing, not touching your face and wearing masks.
Acknowledgment of this policy is required. By signing this policy, you acknowledge that you have not been in contact with anyone with a confirmed case of COVID-19 in the 14 days immediately preceding your return to work.
Helping our Employees
The Sonnenalp has always been a strong advocate for mental and physical health and well-being support resources. During this pandemic, we've stepped up our efforts even further. These are the additional actions we've taken to support our employees during this crisis:
Enhanced focus and support in regard to employee mental & emotional health

Formed a Peer Support Group to help educate employees and managers on how to best support each other

Provided quick access to free resources throughout the county to help with financial and behavioral health challenges

Partnered with WorkLife Partnership to support employees, completely confidential basis

Developed a COVID19 financial hardship, no interest loan process
Offering flexible schedules in order to accommodate challenges associated w/ transportation, childcare, etc